What Your Business Can Learn From World-Renowned Video Game, League of Legends
---
George Rowlands, Marketing Journalist
Video games are tricky business; it can take hundreds of experts thousands of hours worth of hard work to make one. But even after all that sweat, there is no guarantee that anybody will like it.
It's like building a house with a blindfold on. You put this there, a bit of that here, and give this a lick of that before it's finally time to take off your blindfold and admire what you have built. You put your house to market, or in video game terms — release your beta, and wait and see if anybody feels at home.
Luckily for Riot Games, the creators of League of Legends, people did feel at home in their house. The thing that makes them stand out from every other developer is that people are still happily squatting, living, even thriving in that same house all these years later. A staggering 103 million active monthly users are hooked on LoL and keep coming back for more para-universal slaughtering every day.
League of Legends celebrates its ten-year anniversary
But, how does a fairly repetitive, seemingly standard gaming engine not stagnate and grow old after ten years of addictive button bashing? Why hasn't Riot's house started to fall down yet, and rather… how have the foundations become even stronger?
In short, the answer is content, and modern business can learn a lot from Riot Games and their success. So, we've already learnt how to become a president; now let's kick it up a notch and learn how to build a universe.
SEW A NARRATIVE
League of Legends' most potent content comes within the game itself. In the gaming world, lore is the backstory and imaginary culture that is sewn into a game. LoL's lore is deep and detailed, set against a whole universe that contains everything that we could possibly (not) need to know about each playable character and where they come from.
Every story ever told has a detailed setting. LoL's setting is the fictional world of Runeterra, and within LoL's main website we can scroll, zoom, and explore a detailed world and the regions that it is made up of. Each area of the map has its own tagline, personality, and list of champions that originate there. There is a different narrative attached to each place.
Bilgewater Bay — a lawless port city
Bilgewater Bay is described as a "lawless port city" — the perfect place to seek fortune. When they were building Bilgewater, Riot Games developers outlined that they wanted Bilgewater to feel eclectic; a melting pot of different cultures and backgrounds, reflecting that its inhabitants have come from all over the known world. With so much personality and culture, only a certain kind of character can come from such a place.
Likewise, every story ever told also has a unique hero. In the LoL world, heroes are referred to as "champions" and there are 132 of them. Apart from each champion being a learning curve, having their own fighting style that needs to be mastered, and having an original look and sound; Riot write biographies for each champion to help players understand who they are and where they come from. They even release music videos that effectively express the vibe that each character is on.
Gangplank, my kind of champion
Gangplank is a pirate from Bilgewater Bay. Riot Games could easily leave it at that — a mean pirate with a sharp sword and a funny hat on his head. Nobody would really care and people would play the game. But Riot take it a step further and tell us why he is a mean pirate. They explain that, like the rest of us, Gangplank took a few wrong turns in life that helped forge his dastardly reputation. Now, people do care about Gangplank… and that's exactly what Riot want.

What does it mean for a marketer?
Riot have their own universe that evolves like the real world. Runterra was a different place than it is now, and people hang on because they are invested in what it is going to be next. With a little imagination, any brand could sew a story to the fabric of their brand. Having a strong brand story means new products and services can be introduced more relevantly and more easily.
League of Legends developers explain character diversity
BRING THE COMMUNITY TOGETHER
The eSports industry was worth $138billion in 2018. Despite not yet bridging the gap to traditional sports, that's a lot of money for an industry that didn't even exist 20 years ago.
Alas, eSports has finally arrived and the internet has helped every modern teenager's dream come true; sit on your arse and play computer games whilst people throw money at them. After Fortnite, League of Legends is the second most streamed game on Twitch — proving that their online community is absolutely massive.
Riot Games have built an organic online community. They posted content to their official YouTube channel and this, in turn, had bred unofficial channels in response. The more people see the LoL cash cow being milked, the more people want to be part of making money on something they love.
There are even superstar Legend players, such as Lee Sang-hyeok, better known by his in-game name Faker. Riot's flagship "All-Star Event" is just one of dozens of eSport events that they hold, where all the superstars come together every year and compete in tournaments to win trophies and to showcase original game modes.
League of Legends All Star Event
There are presenters, journalists, sponsors, celebrities, and charity events. Despite all the smiles, this flashy, fast-paced video proves that LoL is not a joke. It has become a multi-billion dollar industry and everybody involved in it seems to be having the time of their life.
When content breeds organically, it helps to build a steady, unwavering community. When users dig up the massive LoL community online, they see how fun it is and want to be part of it. It soon becomes clear that if you're good at it, or even have a laugh when you play it, there is even the opportunity for this to become a career.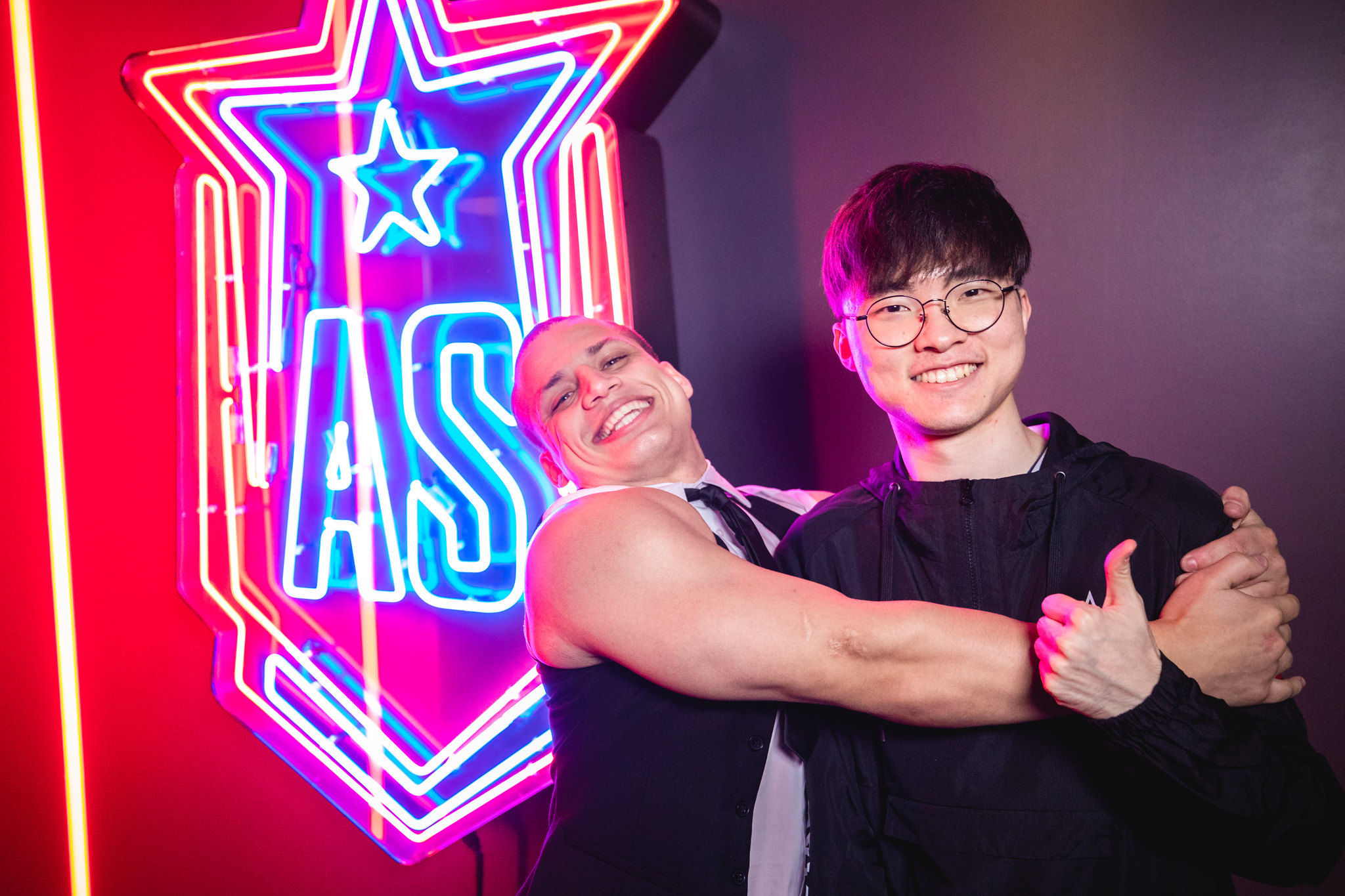 Faker, League of Legends legend

What does it mean for a marketer?
Building a sustainable community keeps interest piqued in a business and keeps customers coming back for more. This is especially true if customers are rewarded for being an active part of the community, adding extra incentive for new members to join. Building a community works as a tool to help an associate with and feel part of a brand or product, and a strong community can be a powerful tool to make good money.
When your community becomes a culture, like League of Legends" has — that"s when you know you are winning.


COMMUNICATE
When a community is as huge as LoL's, effective lines of communication between a brand and a fan base is vital. As I was researching this article, it quickly became clear how open Riot Games are with their League of Legends fandom. Apart from the Instagram pages and the abundance of blue-ticked Twitter pages that come in all topics and languages, they host a "Dev Diary' blog on their website which is used as a direct mouthpiece for Riot Games themselves.
Within this diary they are open and honest with their user base. Different developers explain what's worked, what hasn't, and what's coming up next. They address feedback that their community provides and confront some of the concerns that their community feels. They outline goals for the future and reminisce about the past. This blog doesn't just feel like it is written by professionals, it is open and honest as if it is written by fans of the game itself. The blog works to bring the community more closely together; like one big happy family.
Sad face :(
For the developers and their customers, this is not just a one way conversation. Riot Games also host an official forum on their platform. Here, fans can find anything they want about the game, or they have a direct line of communication with the developers themselves. From this openness we learn that Riot Games' ears are open.

What does it mean for a marketer?
Whether it's an active social media programme, a "contact us" button on a website, or simply a manned email address where customers can directly communicate with a business; having an open line of communication is always a good idea. Customers need to feel supported when they spend their money on a product and as human beings, they want to be heard. Likewise, being frank and honest with customers always paints a brand in a good light and improves the customer experience to increase referrals and eventually sales. Feedback is important to a brand because it allows them to improve the product or service they provide.
KNOW YOUR STRATEGY
Alas, all of this didn't happen by accident; and it certainly didn't happen overnight. Riot Games' strategy from the get-go was set to create an eSport discipline; a game that could incorporate a deep lore but one that was incompletable. The game is easy to learn but difficult to master and with that it is infinite. So, the success is also infinite as long as they uphold their promises to their community and keep expanding. From the struggle t0 become the most skilful player, competition is born, and that is exactly the environment Riot were trying to achieve when they started developing League of Legends.
As a business owner, one should always be ready to take heed of what successful businesses around them are already doing and apply it to themselves. It doesn't matter if the business operate in completely different spheres- there are always lessons to be learnt.
The first lesson that any business can take from League of Legends' success is that having a clear strategy is absolutely vital. The next, is to stick to that strategy in pursuit of success. Riot Games poured creativity, time, and resources into the creation of a whole universe for their customers to become a part of. As the universe grew, so did the community that was engaged within it — and did the need for an effective and open communication model.
The success shows for Riot Games. Despite being founded in 2006, they have only released League of Legends. They devote all of their resources into one title and are reaping the rewards as one of the most popular video games of all time.
Your business doesn't need to create swash-buckling pirate characters or dredge an island to become successful. It does need to benefit from the creativity of an effective marketing campaign with a reliable narrative tied into it. You don't need to pour your heart out in a blog, but your business does need a line of communication for honest feedback and reliable customer service.
With that, you will see you community grow and eventually you will realise that in business… "community" simply means "customers who come back and spend more money".
Get fresh cases and materials on how to grow your business with content